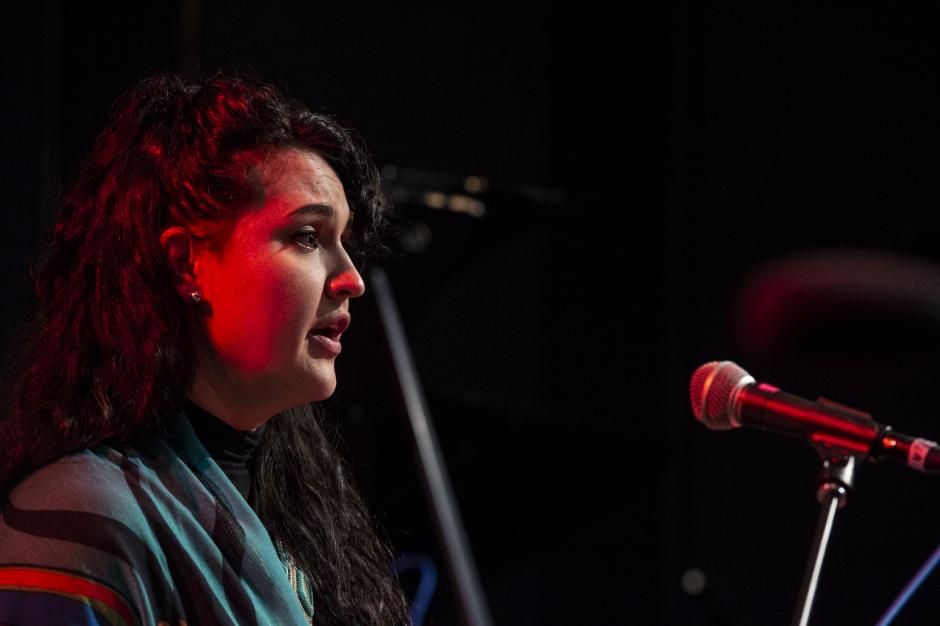 Overview
Inspired by Elder Buddy Wesley, Wîchoîe Ahiya ("Wee-cho-ee-ay A-hee-ya") means "singing words" in Stoney Nakoda. This three-week residency explores the art of songwriting, vocal presence, and production.
Deepen your creative practice and expand your skill set through one-on-one sessions with expert faculty and guest artists, as well as group workshops among peers. Joining this year's intensive are two Indigenous musicians from Tasmania with experience in improvised music sessions and collaborations.
You will also have freedom to structure your time around the needs of your project, explore the unique process of songwriting, and rediscover the art of the song.
What does the program offer?
The Wîchoîe Ahiya Indigenous Singer Songwriter Intensive is designed to explore the entire process of songwriting with different methodologies, expand on performance skills, and learn the intricacies of production.
You will have performance opportunities as well as time in Banff Centre's recording studio with support from faculty, staff producers, and engineers. You'll also interact with a supportive community of up to 16 peers and have 24-hour access to studios. Production spaces are available and will be shared with others in the residency.
Who should apply?
Open to Indigenous people from all regions locally, nationally, and internationally, this residency is an ideal fit for Indigenous singer songwriters who have an established professional practice writing and performing their own original material as well as creating their own musical arrangements.
Artists should have produced an independent body of work, and received recognition through public presentation in performance or recordings as well as from their peers.
More information and how to apply here: https://www.banffcentre.ca/programs/indigenous-singer-songwriter/20191118?utm_source=Banff+Centre+Mail+Campaigns&utm_campaign=45884988c5-EMAIL_CAMPAIGN_2019_August_PA_News&utm_medium=email&utm_term=0_e770b8e6ce-45884988c5-303056729